About Melissa Cottrill CPA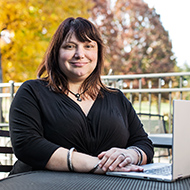 Melissa Cottrill, CPA, MBA, loves working hand in hand with small business owners, solving their tax, bookkeeping, QuickBooks, payroll, and financial reporting needs. Melissa believes that her clients' success is truly a measure of her own, and she enjoys getting to know her clients and their businesses for the long term. In addition to client's accounting needs, Melissa is a Certified QuickBooks ProAdvisor and provides onsite software setup, training and troubleshooting for QuickBooks users.
Melissa is passionate about making a difference in her clients' lives, improving the economy and the world, and recently won Intuit's Meet the Difference Makers Contest based on her work with a disabled client. She was featured on the Intuit site as well as in the Logan Daily News. Melissa's firm serves clients in many industries, including professional services such as consulting, law firms, architects, physicians, dentists, HR consultants, technology companies, and insurance companies; personal services such as hair stylists, nail salons, barbers, caterers, dog sitters, child care services, psychologists, wardrobe consultants, makeup artists, physical trainers, and metaphysical workers; health care services such as medi-spas, physical therapists, home health care, retirement homes, nursing care, nutritionists, chiropractors; construction, trades, landscapers, lawn mowers, interior designers, moving companies, real estate, food service, restaurant, retail, wholesale, distribution, manufacturing, and more.
Melissa is licensed as a CPA in the State of Ohio. She has also earned her Ohio Life, Health, Casualty and Disability Insurance License and a Series Six Stockbroker License. She is a member of the Logan-Hocking Chamber of Commerce. Prior to starting her CPA firm in 2006, Melissa worked as accounting manager for a mid-sized home improvement company. She and her son, Keston Cottrill, established a new business, Mr C's Power Wash, as a joint venture in 2018. 
She earned her BS in accounting at Franklin University and her MBA from the University of Phoenix. Her altruistic interests include children, financial literacy, and education. Please don't hesitate to give Melissa a call so she can find out more about your accounting needs and goals.
Melissa in the News
Contest rewards local CPA for making a difference Meet the Difference Makers: Melissa Cottrill, CPA